Good morning to you!  I finished this skirt a while back but have just gotten around to taking photos.  You can get the free pattern here.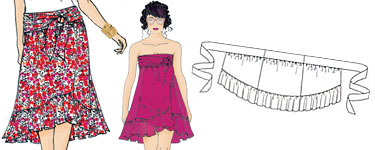 Are you sick of seeing this raspberry knit fabric yet?  I have two more things to show you out of it, then I promise it's all gone.  😉 
Pattern Description: This skirt-dress is designed for airy, lightweight fabrics like crinkled gauze, handkerchief linen, voile, crepe, rayon or even a drapey t-shirting.
Wrap-over, gathered, tiered convertible skirt-dress has a deep band with long self ties, and curved front panels. Wear this versatile summer essential as a skirt with a simple tank or T-shirt for a fabulous casual outfit, or try it as a dress for a glamorous beach or pool-side cover-up.
Pattern Sizing: Includes sizes 6-26. I made a 10.
Did it look like the photo/drawing on the pattern envelope once you were done sewing with it? Yes, except that since I used a knit with a lot of crosswise stretch, I didn't get quite the same ruffled gather look.
Were the instructions easy to follow? Everything was quite easy except for where to leave an opening for the left hand tie to go through. In step 1b of the directions it is unclear that you leave the opening between the back and right hand waistband panels.
What did you particularly like or dislike about the pattern? I like how comfy and easy this skirt is to wear.
Fabric Used: I used a knit jersey, which created some problems due to a great deal of crosswise stretch.
Pattern alterations or any design changes you made: Because of all the crosswise stretch in my fabric, the skirt turned out way too big in the waist. I folded the very wide waistband in half, stitched it down and added wide elastic. (Since you need to leave an opening for the tie to thread through, this elastic will be in two pieces.) I also added hooks and eyes at both side seam, just to keep everything in place.
The ties were ridiculously long, I shortened each by 10″.
Would you sew it again? Would you recommend it to others? I might sew this again, next time in a woven. I'm picturing a dainty floral in lightweight gauze, that would make a really pretty spring skirt..
Conclusion: I can guarantee you won't ever catch me wearing this as a dress, it would be way too short. As a skirt though it's a very nice, simple pattern if you don't mind doing a fair amount of gathering.