I originally bought this pattern because I thought the sleeveless version would make a nice nightgown.
Why is it all the nightgowns I see out there either, on one extreme, look like they're made for somebody's granny, or on the other, for ladies-of-the-evening?  Whatever happened to just a pretty, attractive, comfortable nightgown?  There doesn't seem to be any happy medium, so I usually make my own.
Ok, rant over.
***sheepish grin***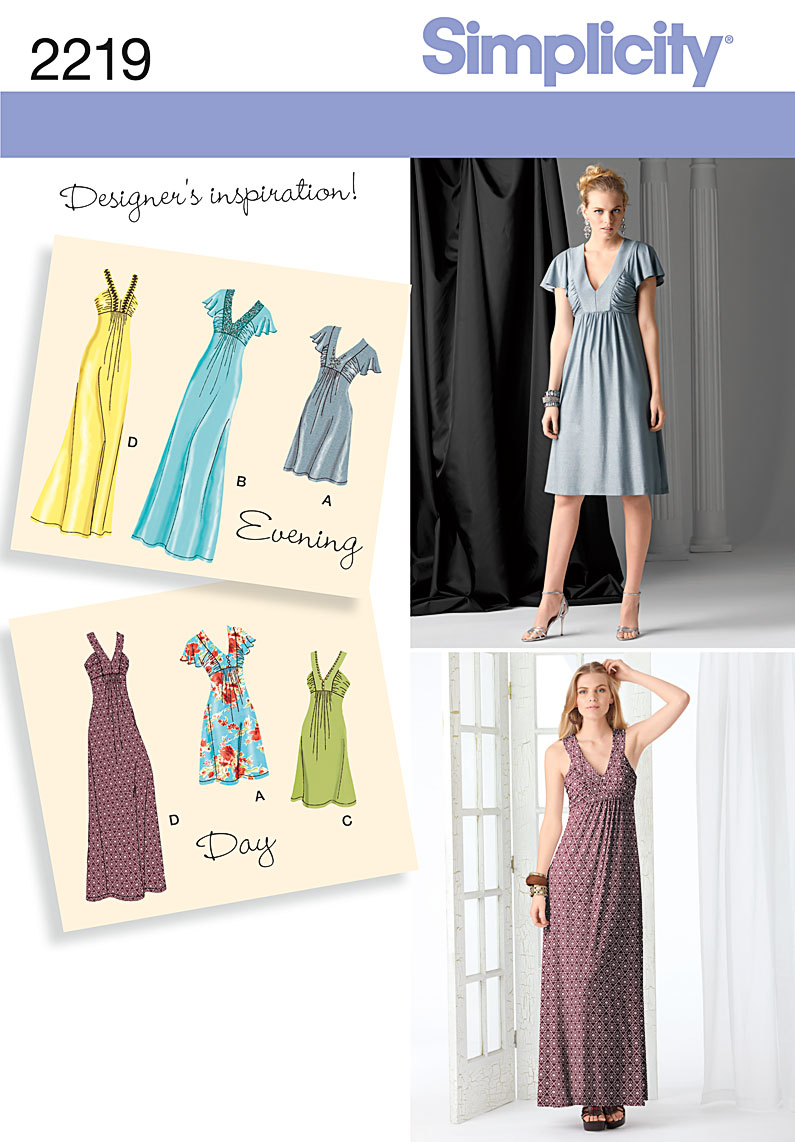 Anyhow, after reading all the happy reviews at patternreview.com, I decided to make my first version in this raspberry stretch knit.
LOVE.
Immediately after finishing it I pulled out a leftover piece of tricot and squeezed out this nightie.
The dress fits perfectly, but the nightie is just a tad snug, which I attribute to the differences in crosswise stretch between the two fabrics.  This is okay, as I'm working on losing a bit more weight, anyhow.  😉  Call it incentive! (Sorry about the bra-strap in the photo.  Although I don't generally wear a bra to bed, I wasn't about to subject the public to pics without one! Nuh-uh.)
Annnnnyhow, here's my review of the pattern:
Pattern Description: Misses Empire waist dress with side bodice ruching, sleeveless or with flutter sleeves in two lengths.
Pattern Sizing: 6,8,10,12,14
Did it look like the photo/drawing on the pattern envelope once you were done sewing with it? Exactly!
Were the instructions easy to follow? They were quite easy, as long as you follow them carefully. Although this garment goes together easily, its construction is a bit unusual. Don't be like me and think you already know what to do, get ahead of the pattern and find yourself ripping out sections. Also, the sleeved and sleeveless versions are constructed quite differently, so pay attention to which directions you are reading.
What did you particularly like or dislike about the pattern? I love that the bodice is fully lined. I love that it has a full back and doesn't require a specialty bra. It's very comfortable to wear and flattering to many figure types.
Fabric Used: The sleeved version is made of a cotton stretch knit. I also made a sleeveless nightgown out of a blue tricot knit.
Pattern alterations or any design changes you made: After reading other pattern reviews stating that the sizing was way too big, I made a 12 instead of the 18 my measurements would direct. The raspberry dress fits perfectly, but the tricot is a bit snug. I can only attribute this to a difference in the crosswise stretch in the two fabrics.
Several reviewers mentioned that the dress was too low cut, but I have to wonder if that is only because they were cutting out a size that was too big. I went ahead and raised the neckline on the dress an inch, but it wasn't really necessary. The neckline on the blue nightgown is as the pattern is drafted and seems fine to me.
Would you sew it again? Would you recommend it to others? If I were to make it again I might drop the waistline down a bit. I don't know why I keep buying patterns with empire waists when that's not my preference.
Conclusion: I really like this dress, with a fully lined bodice and no zippers or fastenings it's easy to make and easy to wear.
P.S.  If you find a need to raise the neckline of a pattern, here's how I do it.
Continue the line of the center front up the amount you want to raise the neckline, (in this case 1″.)
Use a french curve to draw in the new neckline edge, easing in to the existing edge.
Easy enough!
Happy creating, ya'll.